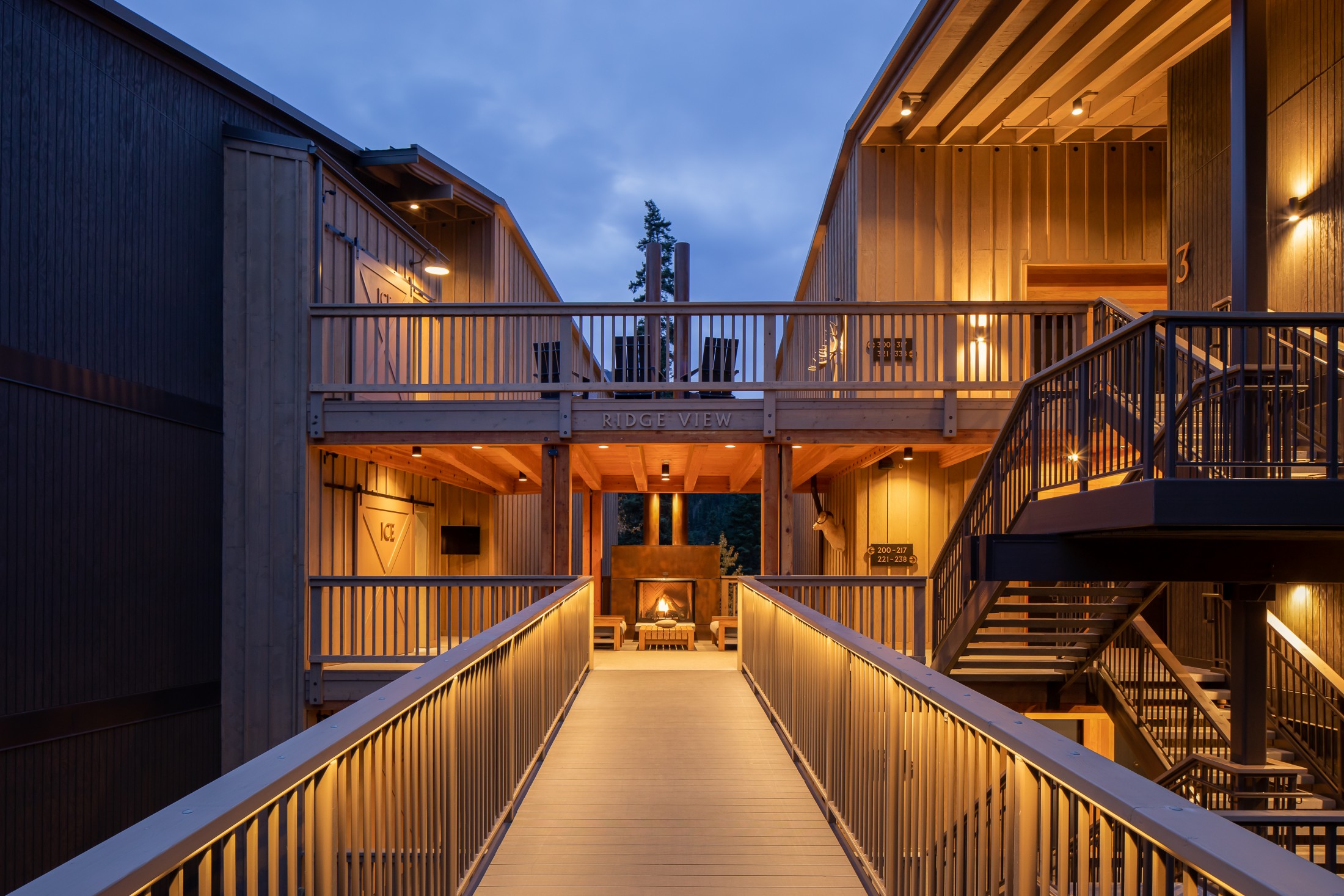 Ridge View for Holland America/Princess
This project consists of a three story, 99 room addition to the 460 room McKinley Chalets Resort, a Holland America property located at Denali National Park. Our work began with site selection and master-planning efforts, leading to the role of design architect on the shell scope and full interior design services. The structure is sited to take advantage of Mount Healy views and sits adjacent to a natural grade change, creating the opportunity for a second floor entry via pedestrian bridge. This ensures that guests, many of them elderly, are no more than one level away from their room. Massing of the structure is essentially split in half, with the two halves subtly bent in order to reduce apparent scale. This break creates a 'confluence' of building circulation, which we enlarged to function as the building entry, accommodating comfortable seating areas with outdoor fireplaces.


Our intent with respect to guest experience focused on creating a strong sense of place – reminding you at every opportunity that you are at Denali National Park in Alaska. Circulation spaces are clad in rough-hewn wood, are generously scaled (in scale with the surroundings) and are un-enclosed. If you are not in your room you are literally outside – which we felt was critical to the experience of the park. Junior suite guestrooms, a first for this property, feature balconies and large windows to take in the view. Interior finishes include extensive use of rough-hewn torched wood and head-board walls clad in a custom topography map of the park. Small elements, such as a barometer with weather information adjacent, playful moose-head coat hooks, sheepskin throws and a custom designed throw blanket from Pendleton are intended to further immerse guests in the experience.